Animal testing is a tough subject. For the most part I'm for it, although there are probably a lot of unnecessary ways it goes down which should probably be stopped. But when it comes to developing new drugs to treat diseases, there's a certain amount of acceptable harm to non-human animals which in my opinion can be justified in the interests of a greater good to humanity.
Probably some BEAST readers disagree with me there, and we can have a discussion about the moral ambiguities and grey areas, and maybe learning more about it might cause some of us to change our minds. But when you get into how animals are used in the alternative medicine industry, all these potential nuances are wiped away since by definition alternative medicine doesn't even work. If any of the practices I'm about to get into had shown efficacy through real scientific evidence, then they wouldn't be alternative medicine anymore; they'd just be medicine. So what we're talking about here isn't about whether we should sacrifice X number of Y species to save Z number of humans; it's just about how much we should let the quack industry harm animals for the sole purpose of profit.
Killing Tigers For Boner Pills
This one will grow up so that he may give us hope for a solution to our erectile dysfunction.
Hey guys! Having trouble getting your dick up without fantasizing about presumably wild tiger-sex? Does the idea of poaching endangered species to grind up into vitalism-inspired magic dust give you a boner? If so then alternative medicine has just the thing for you.
Vitalism is this quasi-religious way of looking at the world which emphasizes some kind of vital essence of things. We might be made of mere atoms, but there's also some kind of mysterious living force or "spark" of life within us which always manages to escapes detection by empirical means.
In some versions of this belief, the vital essence idea doesn't apply only to life and living organisms themselves, but also to each part of the body. So for example, my feet aren't just organs made up of carbon, hydrogen, oxygen, and other elements as encoded by my DNA and controlled by electrical signals connecting them to my brain. For some reason that's not quite cool enough to interest people who get into vitalism. For them, my feet also have to have a "keeping Josh standing" essence to them. Presumably if you cut them off, they'd still 'want' to help me walk just because that's what they really like doing, apparently.
So how does this apply to killing tigers for boner pills? You need to start with the assumption that tigers have AWESOME sex lives. I don't know why exactly people would assume that, but if they do, the secret to their unparalleled ability to just bone for hours on end (at least according to vitalism) is literally in their junk. Chop it up, smash it into powder, pour the powder into those little empty pill capsules you can buy at the health store, and you've got an aphrodisiac. Or at least a product you can sell as one, thanks to the FDA's lax regulations.
Homeopathy For Cows
Louise and Melvin, seen here  drinking their €2 million barrel of water.
We've dealt with how absurd homeopathy is a few times before, so I'll spare you the details on that this time around. It's a similar way of thinking to what leads people to crush up tiger junk for boner pills, but adds another layer of quackery by insisting that the supposedly active ingredient be diluted. Like, diluted a lot. This makes the remedy more powerful. Seriously, that's what homeopathy proponents say they believe.
Using homeopathy on cows isn't so much evil as it is stupid and wasteful. But that's not stopping the European Agriculture Committee from allocating millions of taxpayer Euros on it during one of the worst recessions in decades. You know, just to be really extra sure it doesn't work. Again.
This time the quacks are saying homeopathy will cure mastitis, a bacterial breast infection, in cows. The nauseating Dana Ullman tried to portray a recent study as supporting his brand of bullshit, but as Le Canard Noir points out on Quakometer, Ullman badly misrepresented the actual text of the study. A group of cows being treated for mastitis using homeopathy showed statistically significant results, but — and this is the part Ullman leaves out — there was only one observation showing the homeopath group of cows having a significant difference compared to a placebo-controlled group. Also there was only one trial, so the chances of a false positive increases.
Let's say you have the world's worst basketball player. Someone who only makes, say, 1 in 20 shots. You give him a basketball and tell him to take 3 shots. He makes one of them. The basketball equivalent of Dana Ullman would say that this player makes 1 in every 3 shots. A more scientific person interested in knowing just how bad this hypothetical basketball player is would tell him to shoot the ball as many times as possible, and then take a percentage. And if this basketball player is analogous to homeopathy, what that person would find is that the only times he manages to sink a ball are basically flukes.
The Europeans are being swindled by cranks and frauds to support magical thinking. If they want to spend more money on how they treat cows, that's great. But at least spend it testing some treatment which is plausible. We don't need to waste time and money on showing there's no tooth fairy, and we don't need any more studies on whether or not water has memory. It's ridiculous.
Torturing Bears For Their Bile
Let's say you're a black bear, in southern China, born and raised. In the forest is where you spent most of your days. Chillin' out, relaxin, maxin, all cool and all, eating some fruit, honey, and small birds outside of the nearest village.
A black bear, seen here roaming the forest like a boss.
When a couple of dudes who were up to no good started making trouble in your neighborhood. You get in one little fight and the poachers got scared. They said, "We're going to lock you up in a cage for the rest of your life so we can extract bile from your gall bladder to sell as traditional Chinese medicine."
PWNED!1
Yeah, so that's an image of a black bear in captivity. What they do is puncture a hole through its abdomen into its liver. They keep this wound from closing up, creating a brand new orifice which the quacks then use to extract bile. Imagine being kept in a cage only slightly bigger than you so someone can stab you in the guts without you tearing both of their arms off. Then whenever the hole in your belly starts to heal, they tear it back open again. It sounds like something out of an Eli Roth torture porn flick where medical staff are kept around to keep the victim from dying prematurely, thereby prolonging its suffering for as long as possible. But this is alternative medicine, so you know they do all of this with love and in harmony with nature and stuff. Or something.
Smoking Vulture Brains to See the Future
For some reason, some people in South Africa got the following idea into their heads: That you can see the future — especially lottery numbers and the results of sporting events — by getting yourself a vulture, killing it, crushing its skull, extracting its sweet juicy brains, rolling it up into a giant spliff, and smoking it.
You would probably think this is the kind of superstition with a short shelf life, since it's so easily testable. Actually, maybe "easily" isn't exactly the right word. But if you find it easy to kill a bird and smoke its brains or you know someone who does, and if that really does allow you to perceive future events, this should be one way to win the lottery or a long-shot sports bets by being like this kid: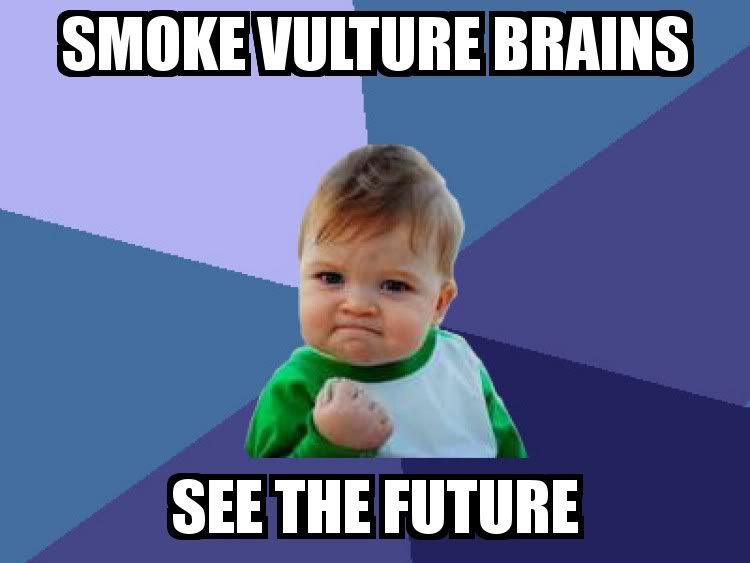 But no. As far as I know, there's no huge surge in South African millionaires. All that's happening is that the vultures in that part of the world on the verge of going extinct because people can be greedy and stupid. Or maybe it's just that they secretly like the taste of vulture brain smoke but rightfully feel embarrassed about it so they make up this lie about seeing the future to cover for their weird and cruel habit. Some vulture brain junkie is probably explaining to his wife right now that they're going to win the lottery any day now if only he could just have a few more vulture brains.