Some really obnoxious and mindless cliches have been popping up from commenters in a previous article about how Jesus was really a swell guy who had such nice teachings, and if only his followers hadn't distorted his message we'd all be living in some hippy's fever dream conception of a socialist commune with free tofu for all and an open bar by the pool between three and five by now.
It's actually kind of amazing how rarely it's suggested that the whole idea of Christianity was a bad one from the start. Even non-Christians tend to fetishize this idea of an initial state of grace from which we've all fallen because of some mysterious, inherent human flaw and the corruption that results. It's a story which has been regurgitated for so long that it's almost been ingrained into our genes. But when you look at what evidence is available, the claim that Jesus was an advocate for peace and tolerance and other nice, liberal things falls flat.
Jesus was more like Harold Camping than any 'progressive' religious leader today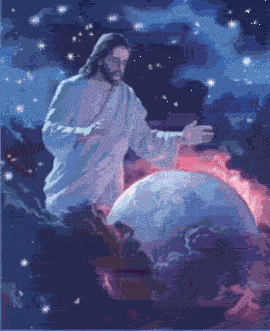 One of the fantasies Jesus confused with reality
According to the earlier Gospels, Jesus definitely appeared to share Camping's beliefs about the imminent End Times. In Mark and Matthew and Luke you find parallel passages where Jesus tells his followers something like this:
And he said unto them, Verily I say unto you, That there be some of them that stand here, which shall not taste of death, till they have seen the kingdom of God come with power.
Matthew 4 also portrays Jesus as a crazed cult leader. He goes out to the desert for 40 days, after which he "sees the Devil." After a little verbal spar between the two – and here I always like to imagine a half-starved, rambling, hallucinating  Jesus standing around a desert talking to a sand dune which kind of looks like Satan from a certain angle – Jesus finds a beach and starts telling some fishermen to follow him because it's the END OF THE WORLD and give up all your belongings because you won't be needing them soon, blah, blah, blah.
If you heard of someone doing that today, you'd laugh at him. And you'd be right to laugh at him. It's only because of of a nostalgic haze that so many of us don't laugh at Jesus today. But we should.
Jesus endorsed Old Testament law

Most legal scholars consider Jesus' legal views 'stupid' and 'barbaric'
Even though Jesus seemed to believe the end was nigh, he still had some pretty strange thoughts about how people should live in the meantime. He wanted everyone to follow Old Testament law. That means slavery and public stonings and other really weird, ancient shit we all should have outgrown by now.
Nice liberal Christians and their sympathizers like to emphasize the supposedly loving side of Jesus. But how loving can someone be when they're OK with stoning gay people, adulterers, rape victims who don't scream loudly enough, and anyone who picks up sticks on the wrong day to death in public? The same people who would be righteously indignant over someone suggesting we all follow Old Testament law in an American southern accent don't seem to have a problem with the same being said by Jesus.
Jesus was haughty
Jesus has this framed in his office
So let's say you're in your local bar having a few drinks after work and some scruffy-looking guy walks up to and says something like this:
"I am the light of the world: he that followeth me shall not walk in darkness, but shall have the light of life."
or this:
"I am the way, the truth, and the life: no man cometh unto the Father, but by me."
And his unjustified ego issues didn't stop after his crucifixion, either. When Jesus supposedly woke up after being dead for a few days, he famously saw Mary Magdalene first – at least that's how it goes in John. Once she recognized him, he made sure to warn her not to touch him, as if her touch would demean him somehow.
Going back to meeting a guy like this in a bar: How would you react to someone like this? Be honest. Nobody in their right mind would spend another minute with him. He'd be the pariah of the bar. That sad, desperate, possibly schizophrenic guy in the corner with delusions of granduer – that's how Jesus would appear if he were around today.
Jesus was not a huge fan of peace and tolerance
En garde!
The whole concept of Hell as a place of eternal punishment for sinners starts with Jesus. Even Harold Camping doesn't believe in that, so maybe my earlier comparison was unfair to him. But for some reason, modern Christians and their sympathizers can look at the same guy who spread this myth of fire and brimstone as a punishment for skepticism and freethought and perceive him as the ultimate ancient rebel. It's absurd.
And as far as peace goes, Jesus takes a pretty explicit stance against it:
"Think not that I am come to send peace on earth: I came not to send peace, but a sword."
It's almost as if Jesus were holding a press conference and a reporter asked his thoughts on peace. And then Jesus says, "I'm against it!" And then somehow today the liberal Jesus fanboys and fangirls have twisted that around as if he said the exact opposite of what's quoted. That takes a Fox News-level of  cognitive dissonance-handling skills.
Face it, you wouldn't hang out with Jesus. Only gullible assholes would. If there was a historical Jesus, then the Republican Jesus crowd is probably right about him. And that's the problem with Christianity, not that Jesus' message was corrupted. It was fucked up from the start.